Cross-country skiing in Maishofen
Gliding pleasurably through nature!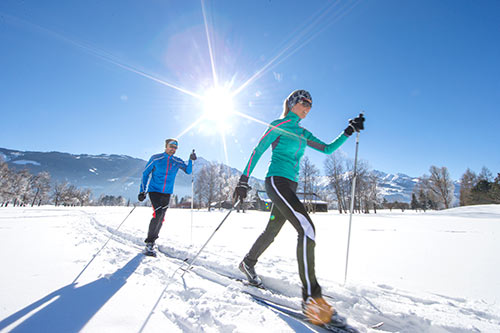 As Maishofen is located on the wide valley floor in the middle of a fantastic mountain backdrop, cross-country skiers will find perfect conditions from mid-December to mid-March. Cross-country skiing in Maishofen gets the heart of any cross-country skier beating! Just 3 minutes on foot from the Obersinnlehenhof, fans of this healthy sport can join the cross-country network and start having cross-country fun.
An extensive cross-country network of around 35km with well-maintained classic and skating tracks traverses the diverse landscape and provides connections to the routes to Saalfelden and Maria Alm. Comfortable resting points complement the Maishofen cross-country paradise perfectly.
The night-time trail in Maishofen with a length of 2.8km is located by the "Landgasthof Schloss" and is lit up daily until 21:30.